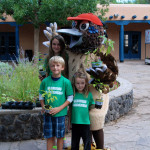 The Dusty Roadrunner program is a strong anti-litter educational program aimed at children in elementary schools. It is supported by two educational booklets and reinforced by personal appearances of KNMB's Dusty Roadrunner mascot. The booklets entitled Fun With Dusty Roadrunner and Dusty Roadrunner Visits the National Monuments in New Mexico teach the importance of litter prevention through stories and activities. They also celebrate some of the natural treasures of our state. KNMB activity booklets can be downloaded here, or are available free of charge to schools within New Mexico. To order booklets for your classroom, please contact info@knmb.org, or call 1-800-760-KNMB.
Fun with Dusty Roadrunner, 3rd Grade Activity Book
Fun with Dusty Roadrunner, 3rd Grade Activity Book in Spanish
Dusty Roadrunner Visits New Mexico's National Monuments, 5th Grade Activity Book
Have fun with Dusty on-line! Adventures of Dusty Roadrunner
Teaching Resources – Arbor Day, Tree Planting, Native Plant Landscaping/Xeriscaping
Project Learning Tree
PLT uses the forest as a "window" on the world to increase students' understanding of our environment; stimulate students' critical and creative thinking; develop students' ability to make informed decisions on environmental issues; and instill in students the commitment to take responsible action on behalf of the environment.
The Arbor Day Foundation
The Arbor Day Foundation inspires people to plant, nurture, and celebrate trees.
Tree and Shrub Care – First Season
Teaching Resources – Litter Control, Reduce-Reuse-Recycle and Solid Waste
Keep America Beautiful
Keep America Beautiful follows a practical approach that unites citizens, businesses and government to find solutions that advance our core issues of preventing litter, reducing waste, and beautifying communities.
New Mexico Clean and Beautiful
As a statewide program and state affiliate with Keep America Beautiful, Inc., New Mexico Clean & Beautiful is the state's leader in litter control and beautification.  The program's main objective is to invest in local governments by annually awarding grants to local programs that undertake litter control through elimination, education and eradication, beautification; recycling; graffiti and weed eradication.
New Mexico Recycling Coalition
Since 1991, the New Mexico Recycling Coalition has served as a resource to provide recycling information to professionals in the field, as well as to the general public. The Coalition is comprised of 260 members representing small towns to big cities, tribes and pueblos, private businesses, counties, state and federal agencies, educational institutions, composting facilities, recycling service providers and most importantly dedicated individuals. Our mission is to lead New Mexico to value waste as a resource.
Grant and Youth Award Opportunities
BP Energy Education Program
Global energy provider BP has launched A+ for Energy, a program to recognize instructional creativity through grants to New Mexico educators who teach students about energy and energy conservation. BP will invest over $500,000 in grants to New Mexico and La Plata County teachers working with Kindergarten through 12th grade students.
Environmental Education Association of New Mexico
The Environmental Education Association of New Mexico (EEANM) is a nonprofit organization which provides, promotes, and enhances quality environmental education by offering New Mexicans opportunities for professional development, communication, and partnership.
Environmental Protection Agency
The Grants Program sponsored by EPA's Environmental Education Division (EED), Office of Children's Health Protection and Environmental Education, supports environmental education projects that enhance the public's awareness, knowledge, and skills to help people make informed decisions that affect environmental quality. EPA awards grants each year based on funding appropriated by Congress. Annual funding for the program ranges between $2 and $3 million. Most grants will be in the $15,000 to $25,000 range.
Environmental Protection Agency
Since 1971, EPA has sponsored the President's Environmental Youth Awards (PEYA). The program recognizes young people across America for projects which demonstrate their commitment to the environment.
Nicodemus Wilderness Project Apprentice Ecologist Initiative
The Nicodemus Wilderness Project's Apprentice Ecologist Initiative™ (officially recognized by the U.S. EPA) has engaged thousands of young people (kids, teens, and college-age youth) from around the world in environmental cleanup and conservation projects since 1999. Contact: Robert K. Dudley, Ph.D., Director
KNMB Grants
Education grants are provided to assist schools, educators, and youth groups with an opportunity to make a difference in an educational setting. Projects may include environmental projects, tree plantings and campus xeriscape projects, educational outdoor gardens, horticulture/nature education, recycling projects, and campus clean up projects.
Other Educational Links